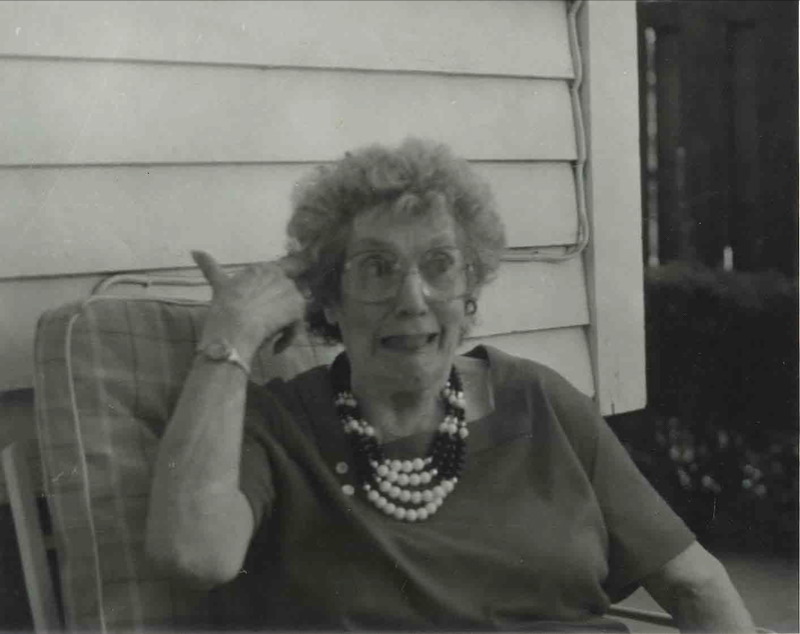 A Garden Party
The road from Marlowe to Pangborne is not a busy road. It meanders leisurely through the countryside. There had been an early morning mist, but that had cleared and the sky was now the poets' blue. It was a flawless day in June, perfect for a garden tea party.
When we crossed the plank bridge over the Thames, we judged we were about mid-village and our anticipation heightened. Soon we saw the next landmark, The Three Swans Inn, which had been carefully noted in the directions accompanying our cordial invitation.
A Garden Party! How wonderful! The last one I remember was with Mama's Cousin Clara – and that was really a picnic – a grand picnic in her meadow. Oh, this is one of my cherished memories. I was then a child amongst the field of Queen Anne's Lace, eagerly awaiting the crown that Cousin Clara was braiding for me so that I could become a Queen. (When you are five years old this can happen, you know.)
Now we were turning off the main road onto a narrow pebbly one. We say the large old house as we approached the lovely willow-lined lane. How like Toad Hall I thought.
As we alighted from the carriage we took several steps down and found ourselves in the gardens. Such beauty! Our eyes were delighted. We stood spellbound. Goodness, so many guests. Somehow they looked familiar. Some were seated on sturdy benches, some in weathered and well worn chairs, while others were standing in groups, all engaged in animated conversation. A rather large toad was examining some little flowers near a garden bed. Here was camaraderie. We felt magic round about us.
Our hostess came forward to welcome us, her face alight with happy concern (This was a very large gathering indeed!) As we exchanged greetings our host appeared. He was just as I had pictured him so many times. I was looking into one of the most kindly faces I have ever beheld. His sunny smile radiated serenity with nature. A little breeze sprang up and the pretty flowers near us nodded their heads gently. It would have been too prosaic to say, but I thought, that was the wind in the willows.
Presently a gentleman, wearing a tall black hat, a somber brown frock coat and grey striped trousers approached us. From his stitchery carrying bag some rolled up manuscripts were visible. He was smiling as he said: "You have come quite a distance to join this party; I have heard quite a bit about you; how nice to finally met." "You know," I could hardly wait to say to him, "how much I loved every member of your family ever since I was a little girl! I cried with your mermaid and I laughed at the Princess and many children laughed and cried, when I told them those tales of trued courage, love, sadness and joy." "Yes," he replied pensively, "see the sun above us her and the shadows in the grass near the trees? Sun and shadows, an amazing patter, like our lives and that is how we grow. – But have you met the two gentlemen under the elms over there? I imagine you have read their collected old tales. Did you know they were former librarians? Their brother Carl took to the law; fortunately for the children of our world Wilhelm and Jacob are collectors and tellers of stories as old as the weather. –Ah, I see that tea and cakes are being served, so I shall move along."
I shook hands with the striking looking brothers and told them of my pleasure in their wonderful fairyland. "Vielen Dank, das freut uns sehr," they responded, testing my German. I thought it safer to excuse myself and was delighted to spot another one of my heroes, the genius, whose magic put me at the Round Table in the Great Court with King Arthur and his beloved Knights. I wanted to compliment him on his superb illustrations, but I could not catch his attention; he was busy talking to Mr. Wyeth, one of his students.
So I walked over the hollyhocks, where I noticed Mrs. Lang, "Pray, tell me madam, how long, by clock, have you really kept your husband locked in his writing room, to assure that he would proceed with his wonderful stories? We all owe you a tremendous debt. What an ingenious idea! He never showed any displeasure or anger over your plan to keep him writing!" When she did not answer me, I felt a bit embarrassed about my overbubbling enthusiasm, as she seemed to look right through me.
I expected a warmer reception from my dear friends, Dolly Clare and "Miss Read," who, both dressed in attractive summerfrocks, were chatting with their village vicar. How strange, they ignored me.
"Over here, Miss Kate, these flowers would be perfect for the children's garland!" I overheard someone say. What a curious feeling: Nobody seemed aware of my presence, yet I could clearly hear and see all these wonderful people. I decided to go over and talk to the familiar looking lady who sat all alone on a bench. She was wearing stout country boots, and seemed in a world by herself. When I looked again, I recognized my hostess from my trip to Sawry, in the Lake district. What a wonderful chance, I thought, to tell her how much I had loved being at Hillsop and how well I remember Mrs. Jackson bringing in the buttercups. But the words would not come out of my mouth. My tongue was tied, my heart beating in my throat. Here I was with all these wonderful people and I could not talk! I remember taking a writing tablet and pen from my bag. Oh my, how difficult trying to write at the speed of listening………
When I awoke, I was reclining in a chaise on the broad lawn of The Compleat Angler Inn, at Marlow, quite near the river Thames. My son Evan was standing near me, smiling. He said: "Well, good afternoon, Mum, you have had quite a nap, pleasant, I assume? I have been out with my camera. The clerk at the desk said you had left your room some time ago. He thought I would find you here. I see you brought your notebook and the sliver pen I gave you for your birthday. What have you been writing? Care to share it, Mum?" I looked at my notes: the pages were covered with all little scribbles, bits and pieces of words, but all under one clearly written title:
"A Golden Dream on Ratty's River."
REFLECTION…..
A long time ago Papa explained to me, that beauty is not the monopoly of blooming youth, grace does not belong to any particular period of life and goodness improves the longer it exists. The glory of life is the east in the morning and the west in the evening. How grateful I am for Papa's wisdom. From him I learned t dream. I remain young in the Land of the Heart. What joy! I can return AGAIN AND AGAIN to
"A Summer Garden Party"
HELEN SOUTHGATE WILLIAMS
Age 97, of Rochester, died May 10, 2002. Mrs. Williams, known throughout the Metropolitan area as the author of "The Incessant Trumpet" and as a literature consultant to many schools, graduated from the University of Michigan and taught for many years at Wayne State University. She was the owner and operator of a bookstore on Main Street in Rochester for many years where her love of books and skills as a story teller challenged the imaginations and expanded the world for hundreds of children and many adults. Wife of the late Edward Watkin Williams. Mother of Evan Southgate Williams, Sidney Arthur Williams and Edward John Williams.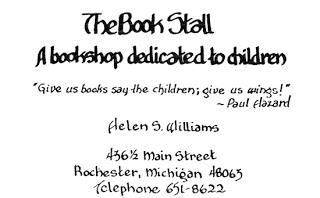 The Book Stall was a children's book store operated by Helen Beatrice Southgate Williams at 436 ½ Main Street from 1964 to 1974. Mrs. Williams, who had taught children's literature at the University of Chicago and Wayne State University, was known in area schools as "The Story Lady," because she brought her storytelling skills into the classrooms of several local districts.
For fifteen years, Helen Williams operated a book shop called "The Old Red House" from the living room of her home on West Second Street. A monthly book discussion group that she hosted there, entitled "Conversations in Literature," was so popular that she had to add a second session. In 1964, when the house and property on Second Street were sold for an apartment development, the family relocated and Williams moved her book business to Main Street. Throughout her adult life, Helen Williams shared her passion for literature with children and their parents and teachers, challenging youngsters to use their imaginations and seeking to instill in them a love of reading. The Book Stall closed in 1974 after the death of her husband, Edward, but Mrs. Williams continued to operate an educational consulting business from her home until she was well into her eighties. She also published a literary journal which she titled "The Incessant Trumpet," from 1985 to 1993.
Helen Southgate Williams died on May 10, 2002 at the age of 97. 
From: http://rochesteravonhistory.blogspot.com/2010/02/bygone-business-book-stall.html
"Give us books,' say the children; 'give us wings. You who are powerful and strong, help us to escape into the faraway. Build us azure palaces in the midst of enchanted gardens. Show us fairies strolling about in the moonlight. We are willing to learn everything that we are taught at school, but, please, let us keep our dreams."  – Professor Paul Hazard 1944

Paul Hazard, Professor for Comparative Literature at the College de France, was the first scholar to write at book length about children's literature from an international perspective. The notion of children everywhere perceiving the world as a place without borders, with their books freely transcending all linguistic and political boundaries, is not new in academic discourse about children's literature. Its most eloquent exponent was the French scholar Paul Hazard with his concept of a 'universal republic of childhood'. – Emer O'Sullivan