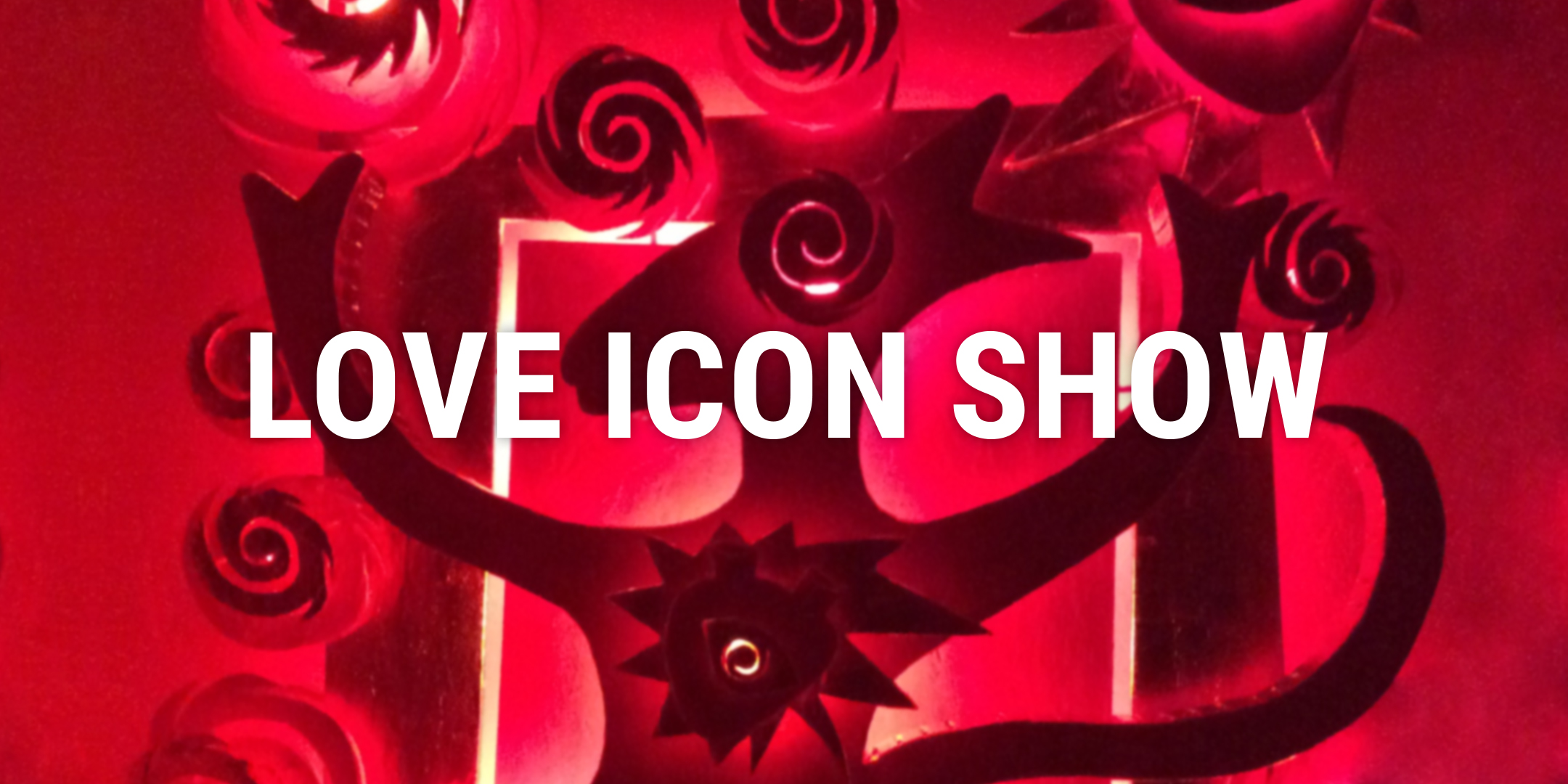 The Love Icon Show happened!


July 28–30, 2017



Spark Arts
Heart of the Castro District
San Francisco, California
Illuminated Sculpture Paintings
by Wolfram Alderson
Inspired by Themes & Characters
in the Sci-Fi Epic Pupazzo Universo
Several years in to writing Pupazzo Universo, a science fiction epic, Wolfram has developed a series of illuminated sculptures based on characters and themes in the work, scheduled to be published in 2018.
The Love Icon Show featured works that Wolfram describes as "illuminated sculpture-paintings." The pieces average six feet high and five feet wide, and are multidimensional with complex elements on multiple planes – all lighted with incandescent and LED light. Supporting the larger illuminated works, are a series of "explanatory paintings" depicting scenes and themes from Pupazzo Universo.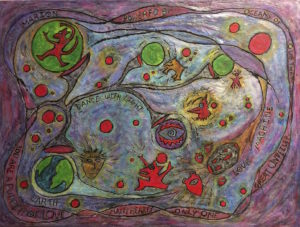 "Dance with Light" – Explanatory Painting
The entire exhibit was shown in the dark, adding to the mystery and magic that Wolfram strives to create in his exhibitions. The exhibit featured a Massive Love Altar – over 9 feet tall – and Wolfram has made a Call for Exceptional Lovers to photographed with the Altar.
Summer 2017 was the 50th anniversary of the Summer of Love. But, guess what? Every summer is the Summer of Love! Every Spring, Fall and Winter too! What better way to celebrate love on epic scale than to invite this exhibit to your home town? You will love it!
The Love Icon Show launched July 28-30, 2017. The opening and other events surrounding the premier were well attended. Thanks to all who were able to attend in person. For those of you that missed the opening, here are some snapshots from the show. Our goal is take the Love Icon Show on the road and exhibit in other cities and countries as opportunity arise.
All the work is self-illuminated and shown in the dark. This an extremely important point in history to be featuring themes of universal love. During this 50th anniversary of the Summer of Love, most of the emphasis was on looking back in time at how Love shifted Earth culture in a different direction…the work featured in the Love Icon Show is looking forward into time and imagining a future where Love is the most powerful force in the universe, and what that might look like. All of the pieces in the show are essentially "Puppets of Love."
For more information, contact Wolfram Alderson.
Love Icon Show
Preview Gallery
Love Icon Show
Questions?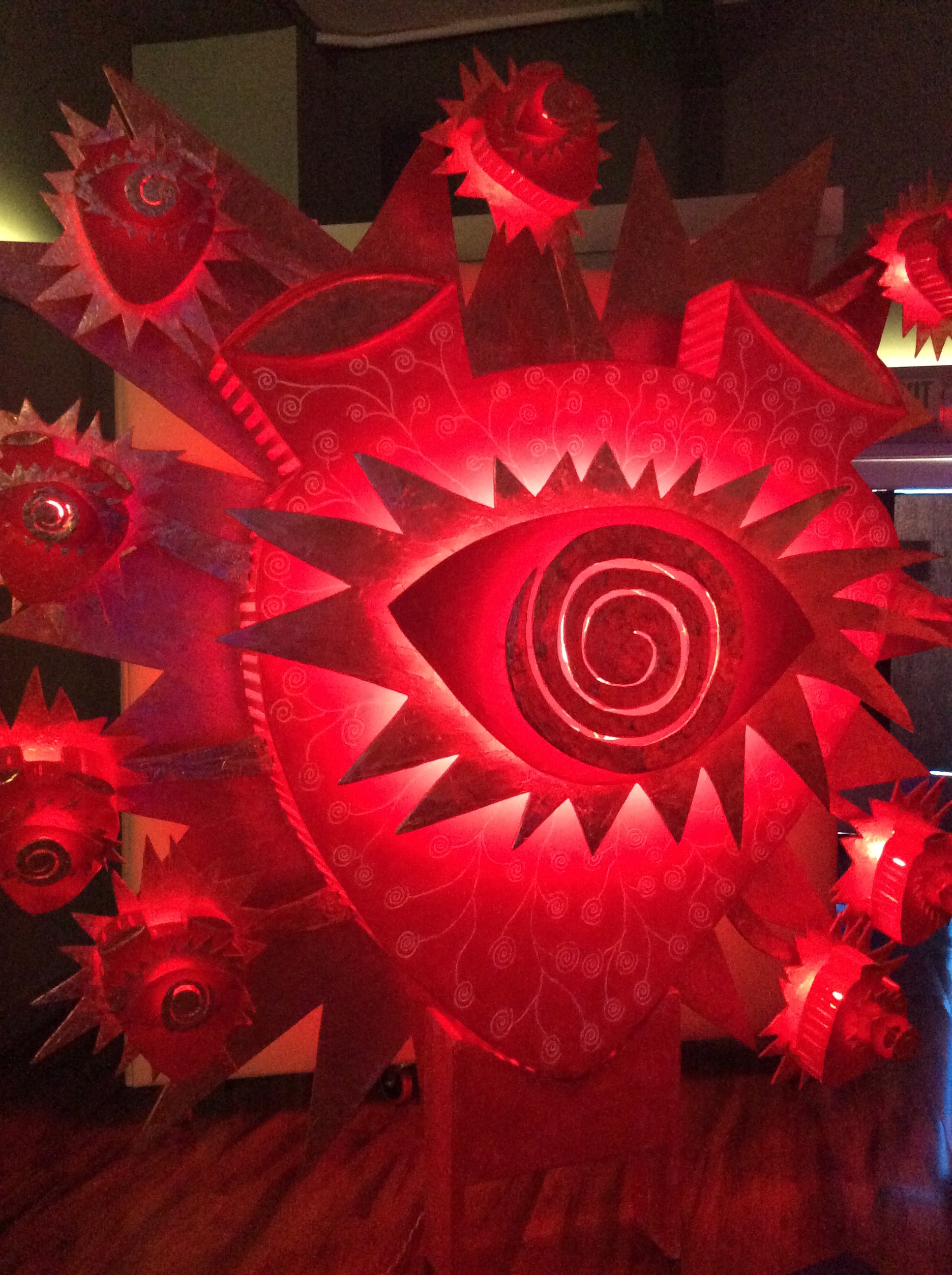 Massive Love Altar – Spanning 9 feet across and containing over 1,000 parts assembled into one big Hunk O' Love!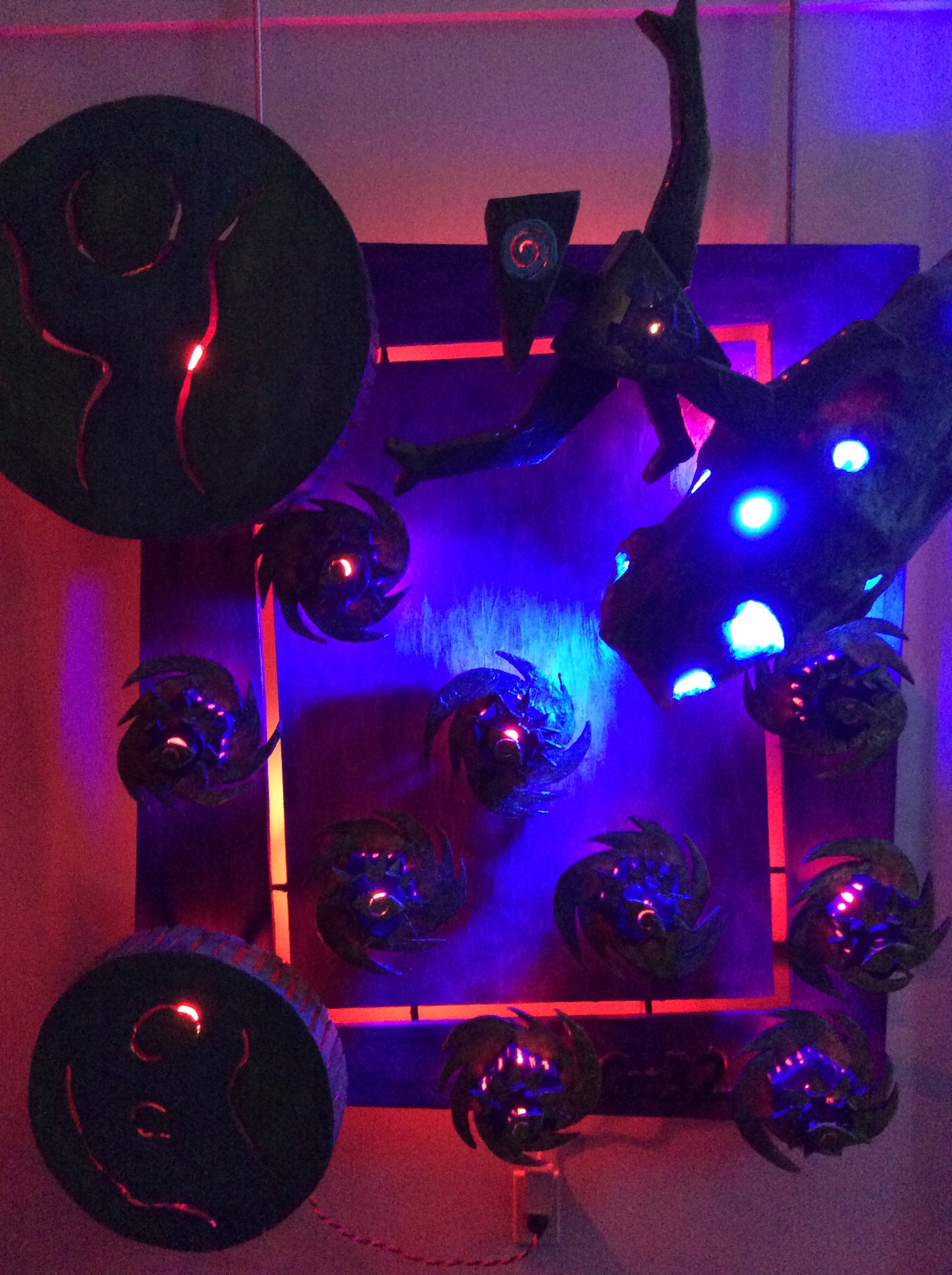 G-32, the Embodiment of Love, is on his way to theaters near you!
"…we find beauty not in the thing itself but in the patterns of shadows, the light and the darkness, that one thing against another creates."
From the 1933 essay 'In Praise of Shadows' by Jun'ichirō Tanizaki, a Japanese author who writes about life and aesthetics from a softer, quieter, more shadowy epoch of Japanese traditions, culture, light, architecture, materials, food, etc.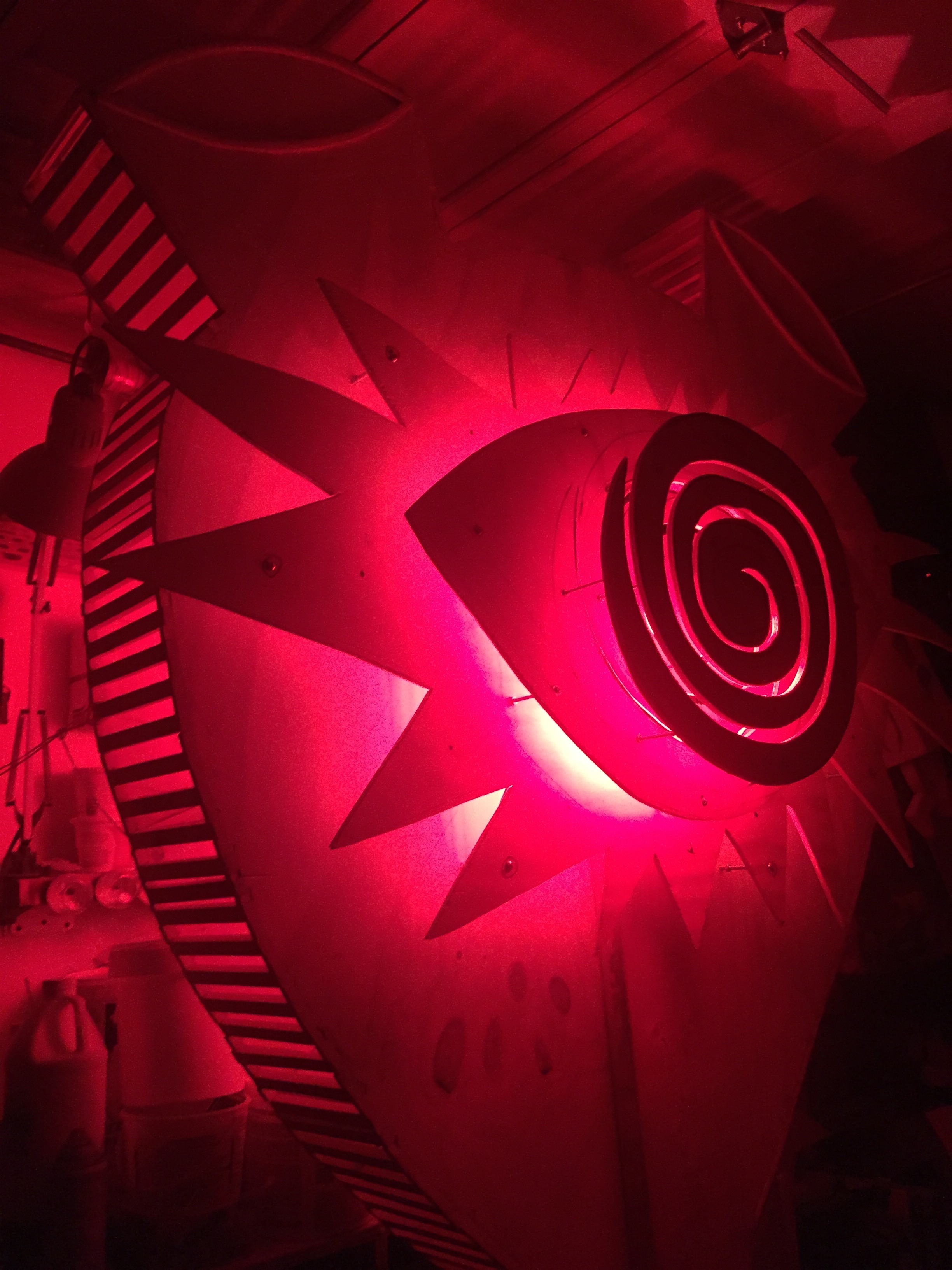 Massive Love Altar in the works – in studio before the grand opening.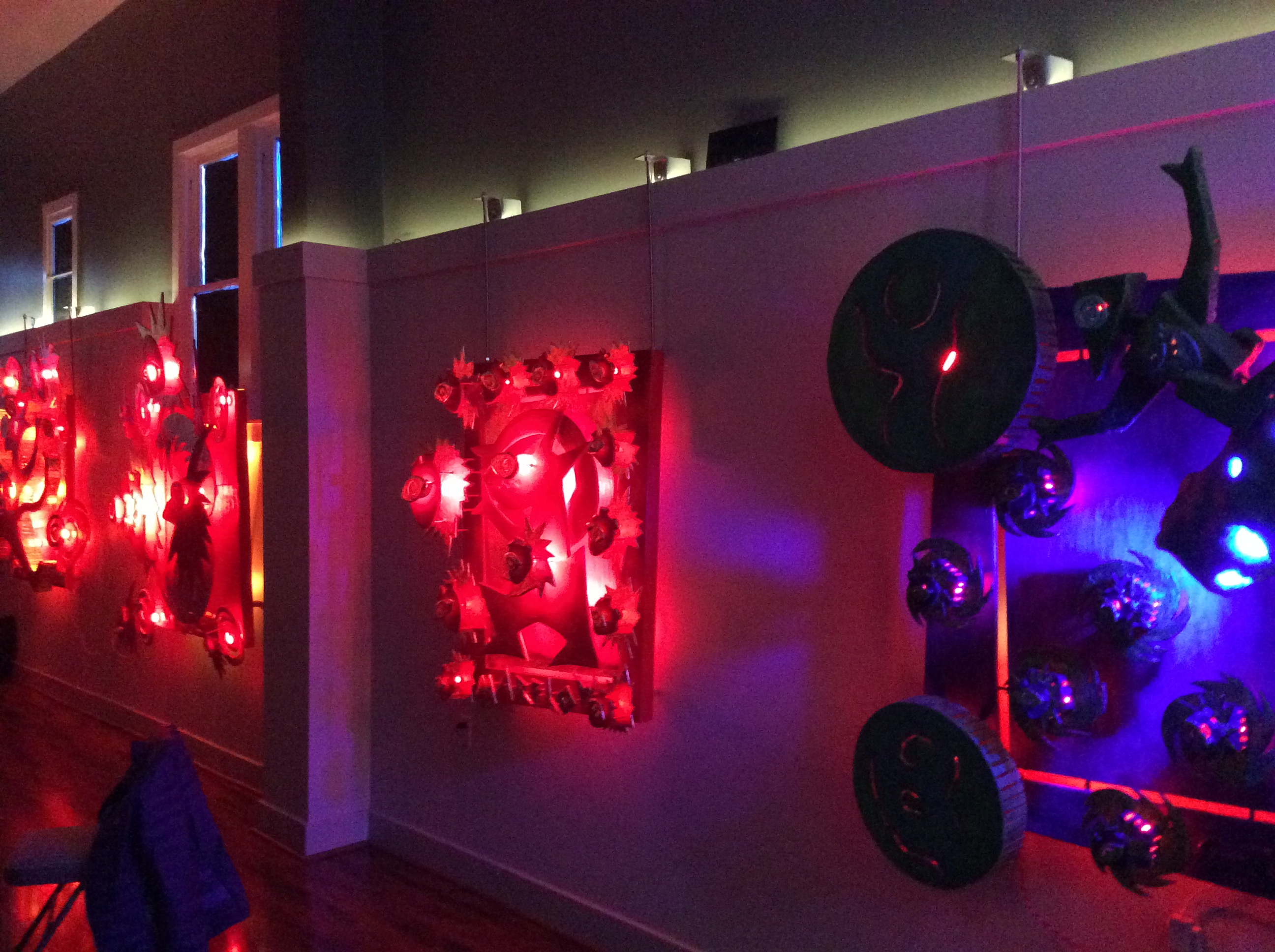 Four illuminated Sculpture Paintings, one Massive Love Altar, and 9 Explanatory Paintings were featured in the Love Icon Show.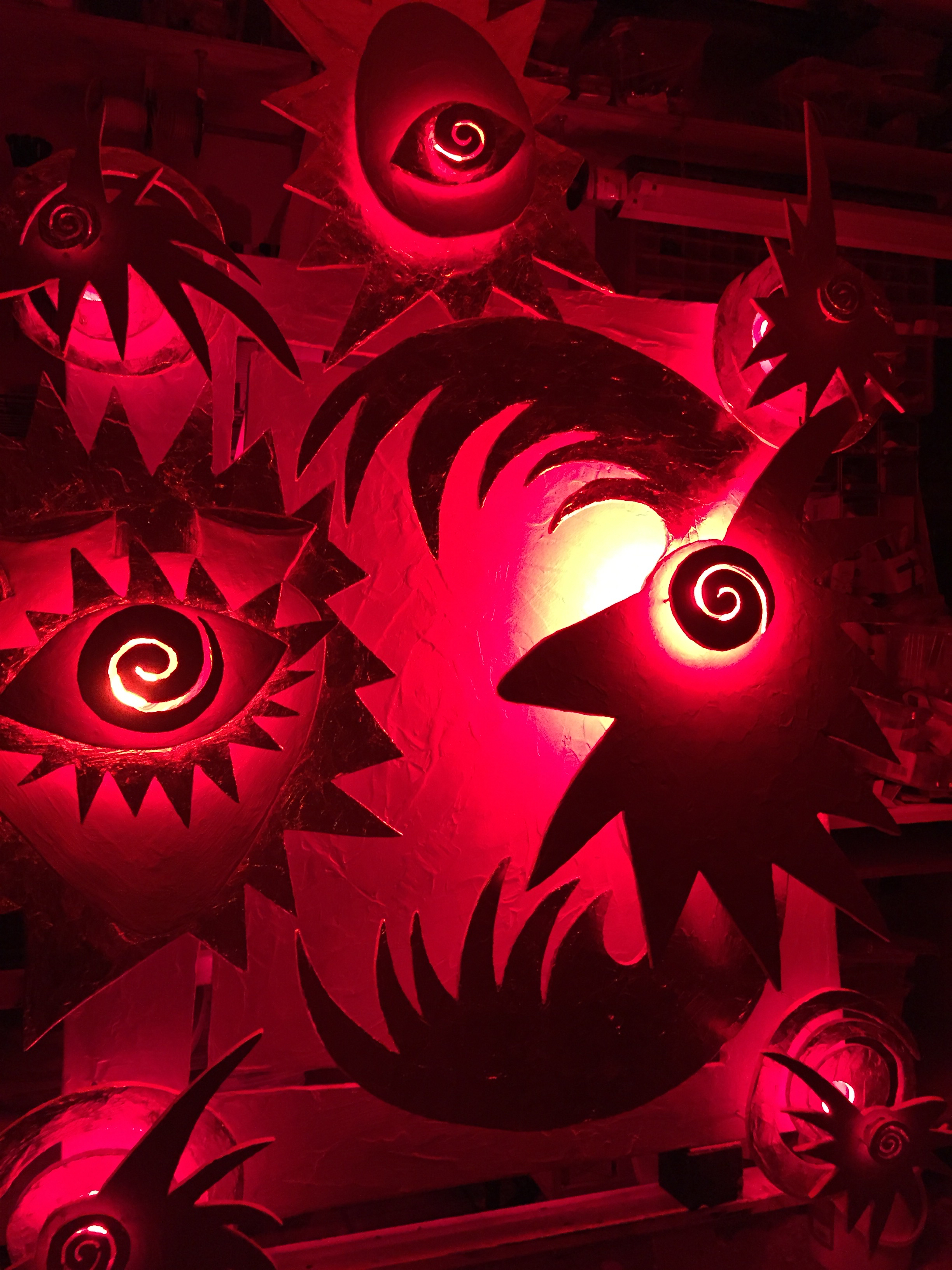 Chikenz  (Work in progress)
On earth, chickens are surviving members of the dinosaur race, now relegated to being your protein and genetically modified and enslaved in our dysfunctional food system. Imagine that on another planet, far far away, "Chikenz" evolved without interference. What would they be capable of? In there world, you might be on the food chain, and trust me, you don't want to mess with a giant hungry chicken, especially when they are smarter and faster than you.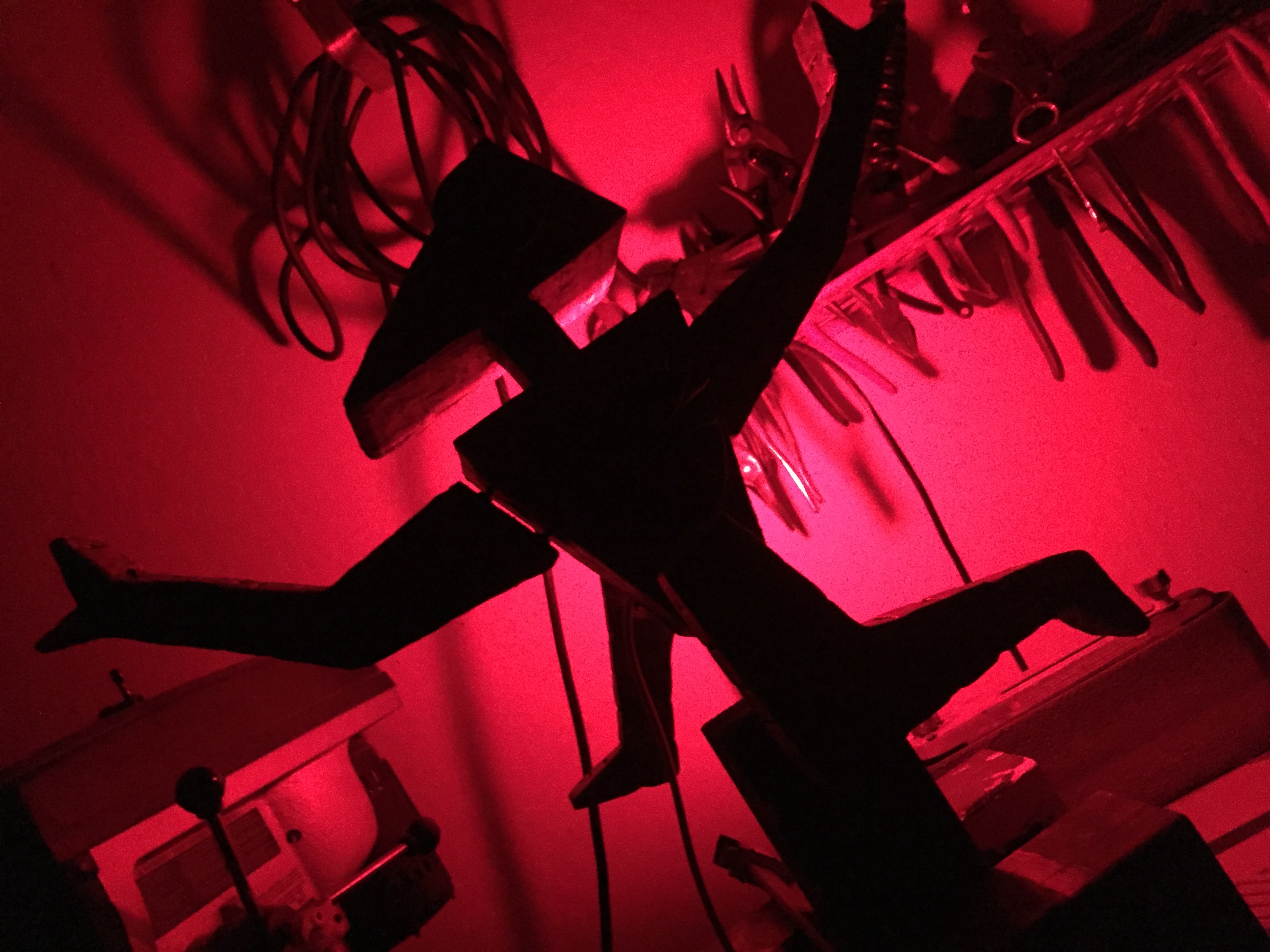 G-32 (Close up of G-32, work in progress)
G-32 is an highly evolved being, traveling through the universe with the Love Algorithm. And yes, you will be assimilated.
We think about "robots" and "Artificial Intelligence" but these are very limited imaginings of non-biological advanced beings. "Robot" comes from a Czech word meaning forced labor. Human understanding (or lack thereof) tends to limit non-biological beings to being either slaves or killers (e.g. "Terminators"), if we give them free will.
Just imagine, for a moment, that the highest order of thought (LOVE) will actually be what animates "machines" in the future.
Machine (Machina), is derived from a Greek word meaning "contrivance, machine, engine", a derivation from μῆχος mekhos ("means, expedient, remedy").
Love is the ultimate remedy, not slavery or fear or other thought patterns that infect and limit the human condition.
The first publications of the epic "Pupazzo Universo" will be revealed in July 2018. Additional illuminations of the characters featured in the sci-fi epic will be added to the Love Icon Show. In the meantime, check out the next show – Utterances of the Heart!
A man's work is nothing but this slow trek to rediscover, through the detours of art, those two or three great and simple images in whose presence his heart first opened.