"Make your life a work of art."
– Sheila Rubin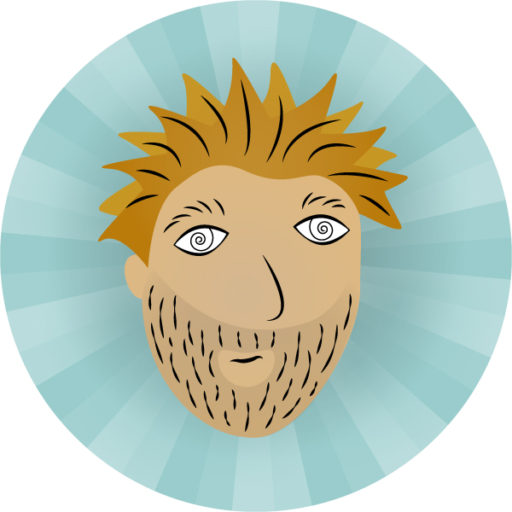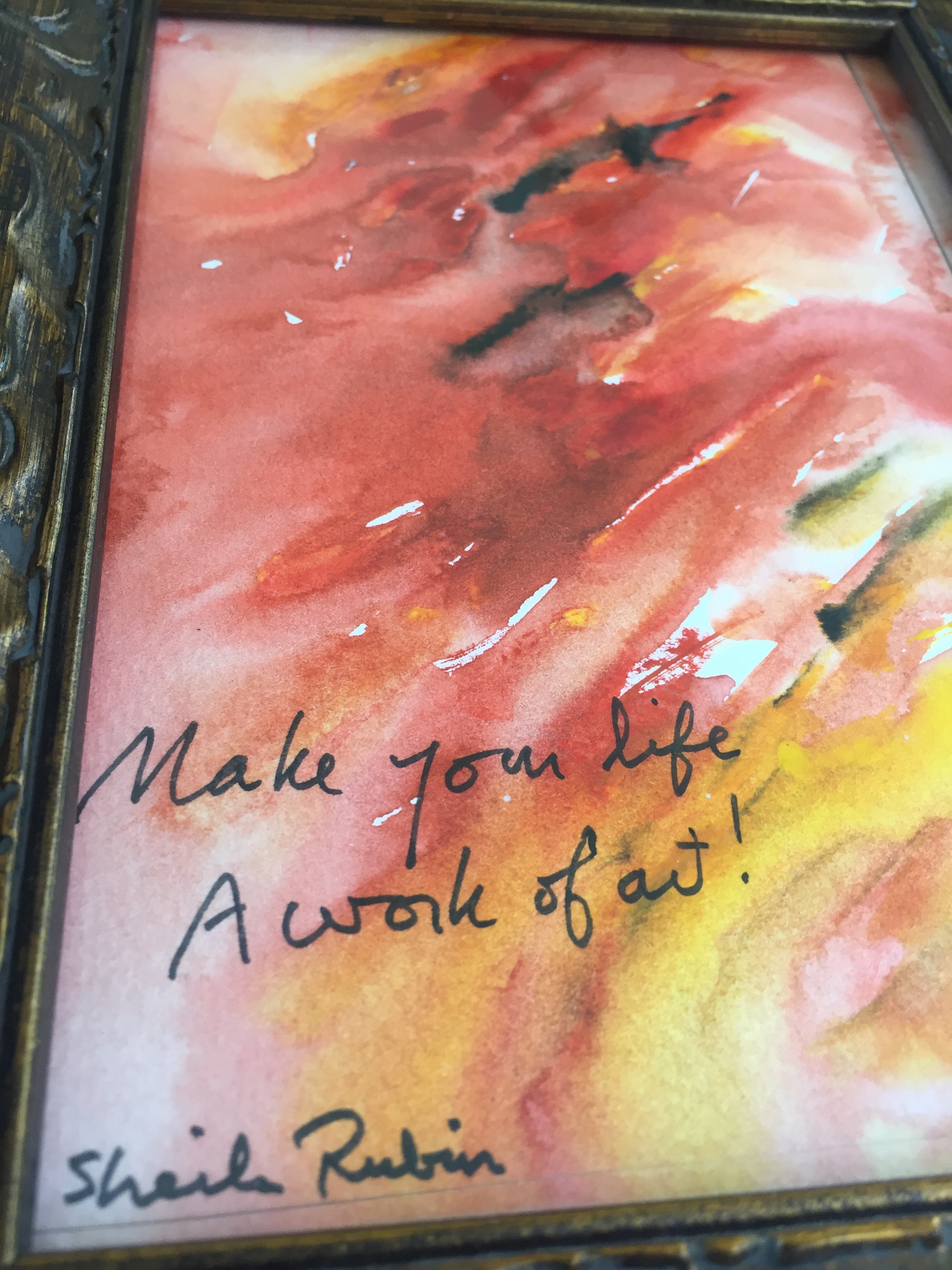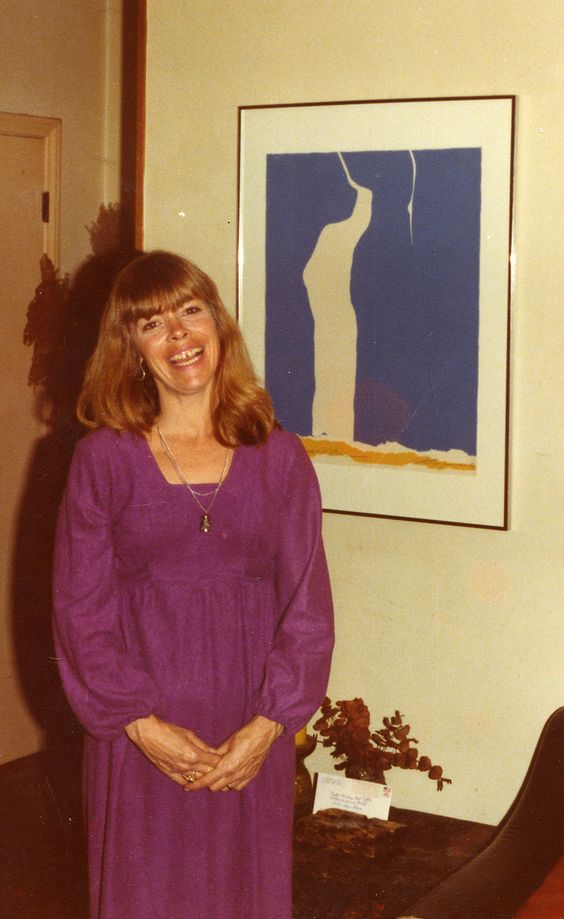 My mother Cella with a painting dedicated to her by Adja Yunkers.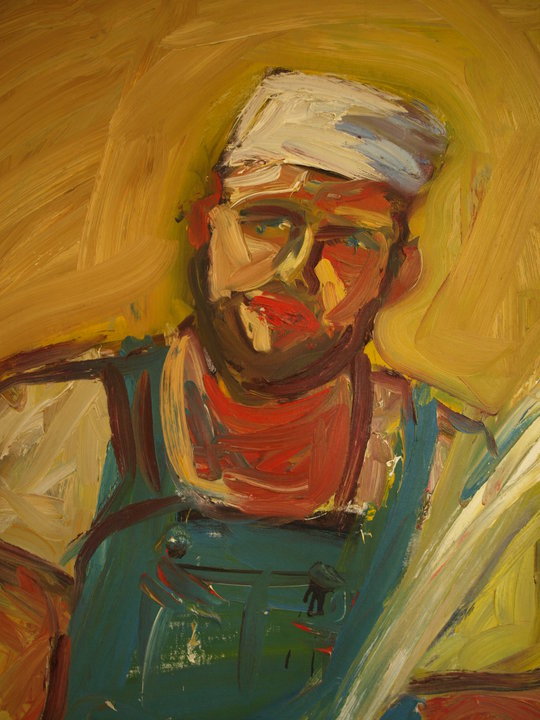 Wolfram Alderson 
(Painting by Solomon Huerta)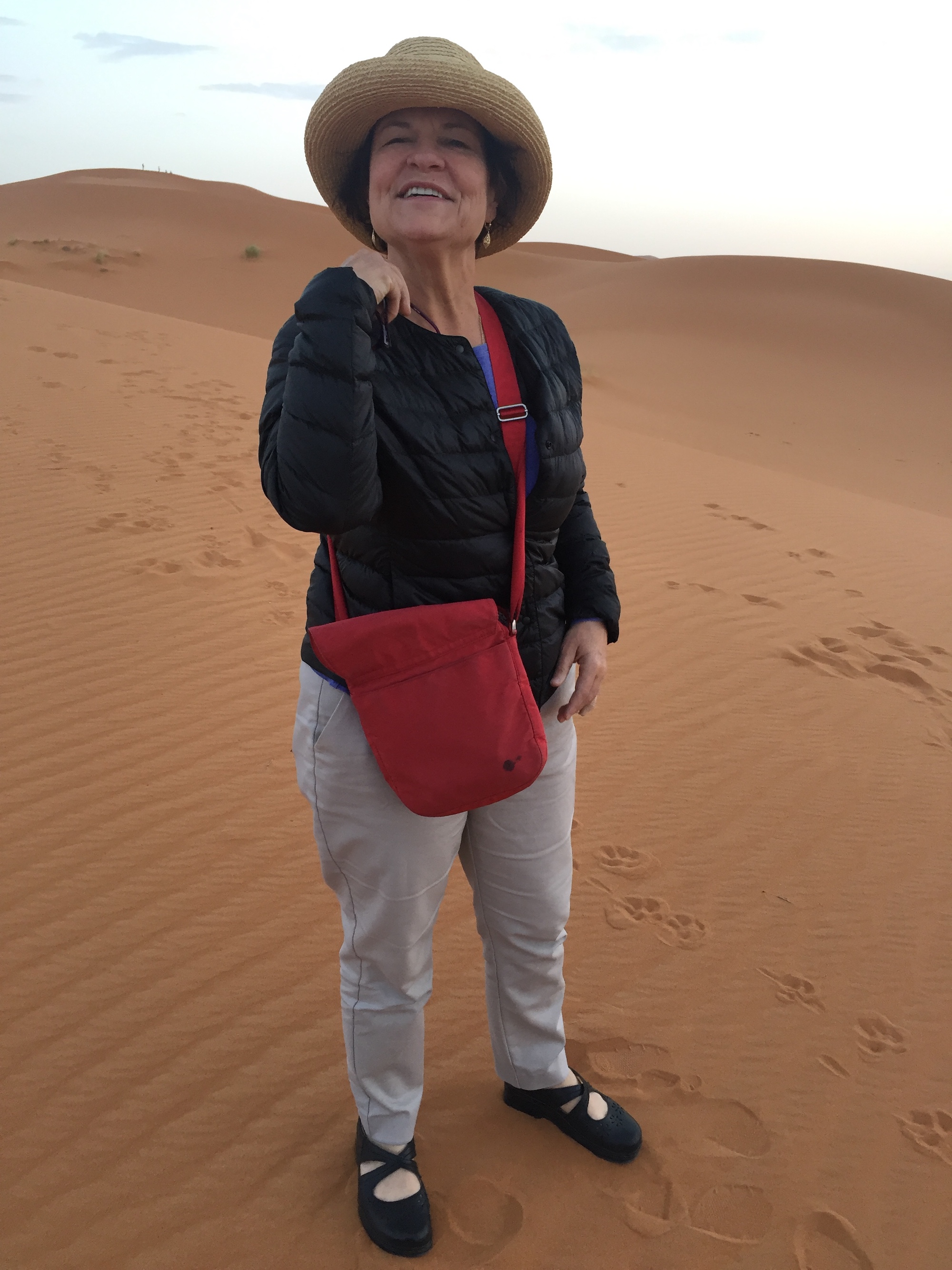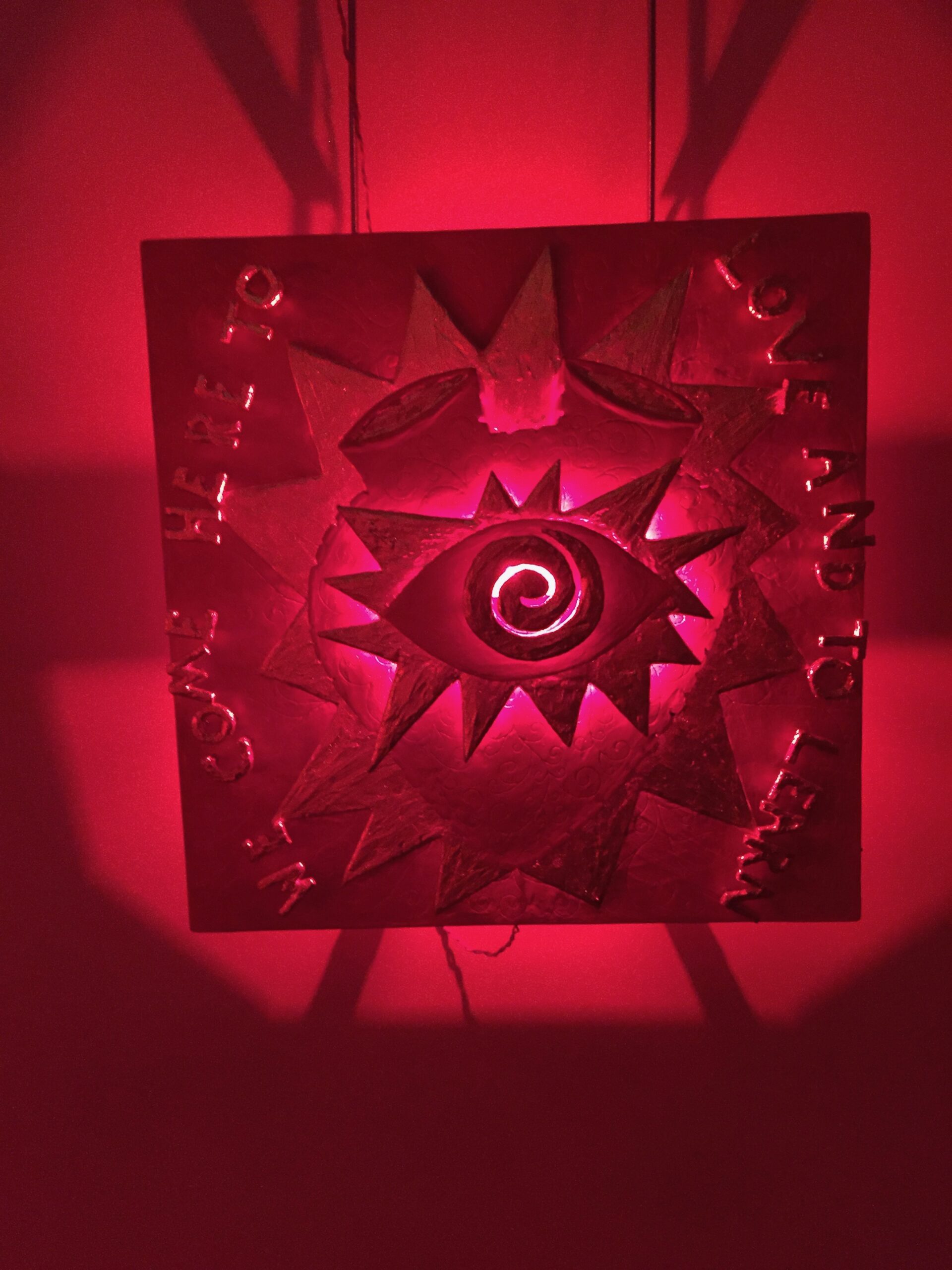 "Will to Love"
Made in honor of my Uncle Will Coffin
I am so grateful. "Self-made" artist? Not quite.
To be an artist is a blessing and a privilege. I am so grateful for the love and support of my family and friends. Over the years, I have created art in garden sheds, garages, sub-basements, abandoned warehouses, closets, and even a converted Mexican Bar. Along the way to becoming an artist, a few people in my life have been constant and supportive voices and inspirations in this pursuit:
My mother, Cella Coffin. My earliest memories in life were crawling around the artists' studios (Adja Yunkers, Raphael and Moses Soyer, and others) where she modeled for painters in New York City. Her poetry and art inspired me over and over again, creating moments of magic and places of rescue. She painted over our kitchen walls, and filled our lives with poetry and art.
My "Aunt Lily" (Elizabeth Butson), my mother's best friend, neighbor, creative, who nurtured me in my earliest days. Her love and care compensated for an absent father.
My Grandmother, Winifred Coffin. Her creativity and faith and laughter opened a window in my soul that allowed me to see myself as an artist with a capital "A".
My Uncles Fred Coffin and Will Coffin whose music and theater and adventures provided many bright moments in my life.
All my incredible sisters and brothers: Elizabeth, Lawrence, Samantha, Virgil, and Harry.
My Aunt Helen Southgate Williams. The Book Stall was a children's book store operated by Helen Beatrice Southgate Williams at 436 ½ Main Street, Rochester, Michigan from 1964 to 1974. Helen Williams shared her passion for literature with children and their parents and teachers, challenging youngsters to use their imaginations and seeking to instill in them a love of reading. Every I visited her, she had a book waiting just for me… I still have every one of them. My Aunt Helen was also a delightful writer…I discovered this piece by her recently: The Garden Party.
The mothers of all my brothers and sisters: Adele Alderson, Flora Layla Edwards, Jane Raab. Your children – my siblings – bring me endless joy. You are amazing mothers, amazing women. Thank you for all your gifts.
My Aunt Cate – Catherine Alexander – writer and teacher. She stuck up for me as a child, and has shown me that love wins – no matter what tricksters and bad actors cross your path.
My Cousin Sydney Coffin, a poet and teacher, who like my mother Cella, put poetry under my wings, reminds me, urges me, and inspires me to fulfill my destiny as a creative being. And my Cousin Katherine Nelson, whose amazing art shows how powerful the art gene is in our Coffin Clan.
My adopted son, Oscar De Leon. His indomitable spirit and infectious laughter inspire many, and he is a bright light in my life.
My incredible friends, including Mike Megremis, William Moeller, Edgar Espino-Barros,  and John Slade. John has passed – a terrible loss to so many inspired by his amazing art. John, piano man, ultimate thespian, and channeler of the "Bard of Democracy" has inspired me since I was a teenager. How many wonderful hours have I witnessed and been enthralled with John's amazing art. Having someone like John in your life invites you – propels you to becoming an artist yourself – you can't help but be infected by the love of art, the mastery of art, and to be inspired beyond words by the kindness and mentoring that John offered to so many. John was never happy just living a life as an artist, he showed remarkable dedication to nurturing the artist in all of us. Mike Megremis, on many long walks, has urged me to follow the path of being an artist. Thank you Mike for continually reminding me that I am an artist and to believe in me. William and Edgar, out of the goodness of their hearts, have made a documentary about my work – I don't know what I did to deserve this, but I am loving the attention and the endless hours they invested in this. William served with me a Full Circle Farm and remained my friend, sharing the tears we shed keeping an urban farm alive. He remained my friend and soul brother and decided my art was worthy of his own – creating a beautiful documentary about my Love Icon Show and Pupazzo Universo.
My amazing artist mentors and friends, including Dolores Carlos, Leonardo Ibanez, Salomon Huerta, Yolanda Gonzalez, and Rude Calderon. Dolores and Yolanda are amazing women who just keep putting love and art and teaching and love into the world, nonstop!!! Being around such great artists is truly inspiring! Early in life, I was touched in kindness and love by Calvin Douglass, painter, and member of the Spiral Arts Alliance, and William ("Bill") Eaton, brilliant composer. Bill bought me the warmest coat I have ever owned during a very cold NYC winter. True Artists are Natural and Exceptional Lovers. Dolores has lived her life as a social change agent and artist – like me, these parts of ourselves have always been entwined. There isn't a soul who knows her who doesn't experience her loving kindness and see the creative beauty flowing through her life.  Despite being tortured and made a refugee by a brutal dictator, Leonardo has lived an exceptional life as an artist and inspired me at a critical time of my life when I was "coming out" as an artist. I am so proud and privileged to have been a friend and supporter of Salomon while he attended art school. My first art exhibit was with him and we became wonderful friends – his stellar career as an artist is something to behold. Yolanda and I founded Ma Art Studio together and we have exhibited our work together. Her work not only hangs on the walls of the rich and famous but graces the buses, walls, and institutions of Los Angeles. She gives endless hours to teaching young and old. Rude takes rocks and turns them into masterpieces. He is a "sculptor's sculptor." How can a man who finds treasure inside of the hardest stone, have one of the most gentle souls?
What an incredible blessing to have benefited from the healing work of Sheila Rubin and her Embodied Life Story process. I am also extremely grateful to my cohorts who went through the Embodied Life Story process with me. Thanks to the great healing and support that Sheila brought into my life, I was able to premiere my Suitcase Puppet Theater. Their stories have inspired me deeply and I treasure their friendship and understanding. What is more powerful than sharing your core life stories with people who respect and love you?
I am grateful to all the creative and loving men and women in my life. Of special note: Joyce Fournier and Gene Stone (now on the other side), Carolyn and Gurucharan Khalsa, special souls who have brought much healing to this world.
John Martin, Metta Mindfulness Teacher who brings peace and love to our hearts and minds every week in mindful meditation, his voice, ever so soft, is ever so powerful.
Gretchen Thometz, Mindfulness Teacher and Metta Collaborator.
Dr. Robert Lustig. A global warrior for public health. A man of science and responsible nutrition. Indomitable. Thanks for inspiring my passion for human and environmental health. Working with you is an honor and never a dull moment. You are a true mensch – you embody science, and honor and have changed the landscape of public health forever!
My friend, partner in social change, and Soul Sister, Roberta Ruggiero, Founder and President of the Hypoglycemia Support Foundation. She is an inspiration and has renewed my hope and passion for working to improve metabolic health and nutrition.
Angie Kanoff and Angie Sticher at Spark Arts in the heart of the Castro District, San Francisco. Many thanks for opening your gallery to me and to so many in the community!
Fiona Fay (Intergalactic) – possibly a fairy, but definitely a friend and volunteer studio assistant. Fiona has donated countless hours of her time to volunteer for my various art projects and fantasies.
Samantha Schilf is another Soul Sister and Amazing Artist who shares my passion for hybridizing art and science. 
In Memoriam
Dorothy Ray Healey and Barbara Nestor – Beautiful True Communists who provided me with housing "rent-free" during my first year in social service.
Mollie Lowery – who was my last "boss" in Los Angeles, and who was a powerful role model and social change agent.
Recently, several souls dear to me passed over: Rosamond Tompkins, Matthew Ryan Hanson, John Slade, Will Coffin, and Jeffrey Betcher.
Rosamond Tompkins was a treasured member of my extended family. She was an amazing teacher, mother, and lover of art and music.
Matthew Ryan Hanson was an amazing partner in founding the Institute for Responsible Nutrition, and was also a lover of music and art and all things entrepreneurial.
John Slade was a life long friend and one of the most talented people I ever met.
Will Coffin, my uncle, took me camping and on many epic adventures.
Jeffrey Betcher was an amazing community builder, gardener and creative spirit.
Dr. Uma Pisharody is a pediatric gastroenterologist, public health visionary, and soul sister. You inspire me when the struggle wears me down, and help me heal when my metabolic system is out of whack. And what a great co-conspirator in the epic work of metabolic health and nutrition. Thank you!
Each one of these special souls holds a special place in my heart and inspires me to continue my journey as an artist.
Grateful to be here in the present moment with the ones I love.