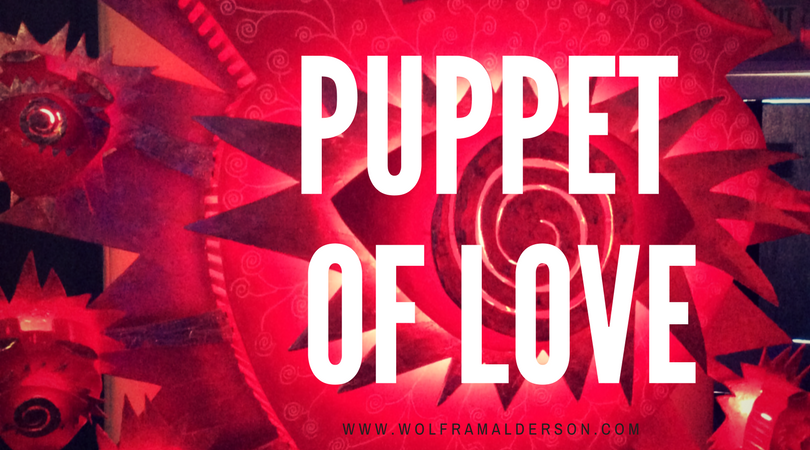 PUPPET OF LOVE


Exhibit – Month of August, 2018



LOCATION – SPARK ARTS GALLERY
Illuminated Sculpture, Explanatory Paintings, Hand Illustrated Children's Books
by Wolfram Alderson
Inspired by Themes & Characters
in the Sci-Fi Epic Pupazzo Universo
Several years in to writing Pupazzo Universo, a science fiction epic, Wolfram has developed a series of illuminated sculptures, explanatory paintings, and a hand illustrated children's books series based on characters and themes in the work.
The Puppet of Love Show features works that Wolfram describes as "illuminated sculpture-paintings." The pieces average six feet high and five feet wide, and are multidimensional with complex elements on multiple planes – all lighted with incandescent and LED light. Supporting the larger illuminated works, are a series of "explanatory paintings" depicting scenes and themes from Pupazzo Universo.
First Viewing of Pupazzo Universo Children's Book Series – Hand-Carved and Illustrated Art Books inspired by the Pupazzo Universo Sci Fi Epic, in Wolfram's "Primitive Intergalactic" style. Readings for children and other related events to be announced in the future.
Utterances of the Heart – "sculptural sentences" about love, in German.
Lectures on Love – several talks about Love on an Intergalactic Scale
Readings from Pupazzo Universo – the science fiction epic which is the mother of all Wolfram's art.
Puppet in Love
Works in Progress